The Faction Fusion Mission
Faction Fusion is a small group within the HDPE market dedicated to innovation while addressing the real needs of the consumers. Our goal is not to have a full product line, but to supply innovative tooling and products where the industry is lacking. We hope you will help us on our journey to make the HDPE and Trenchless markets more efficient and versatile.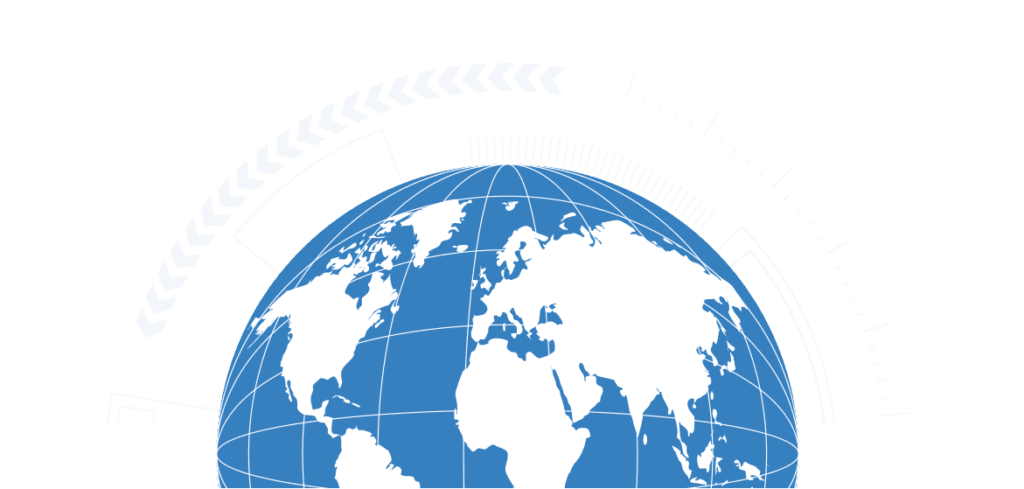 ...
Fusion Welded Connection
Leak Proof and Root Proof
In-Ditch Fusion
Non-Protruding Design
Ease of Use
Restrained
Smooth Flow Line
Durable
Compatible
Lifespan
The welded HDPE Faction-SaddleTM connection creates a long term solution that is leak free, root proof, and durable. The Faction Fusion process for gravity flow connections are manufactured in the field. The Fusion process uses conventional heating elements with our Patent Pending VAC (Vacuum/ Atmospheric / Connection) application system. This process makes for an extremely consistent and reliable weld. Each installed connection is Vacuum tested during the process and easily verifiable by visual inspection.
Conveniently install the Faction-Saddle on your next job?  It's easy and it's . . .
Inlet Connection Options
Once the Faction Saddle has been fusion welded to the HDPE main, connection from the side service piping is to be connected to the inlet side of the Faction Saddle by means of Butt Fusion, Electro-Fusion, or Rubber/Calder Couplings.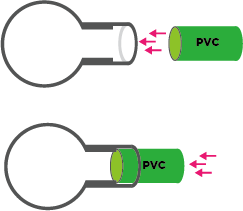 PVC Bell Connections
When attaching to PVC, the Faction-Saddle HDPE/PVC Bell adaptor saddle transitions from our HDPE to SDR 35 PVC. The transition from HDPE to PVC eliminates the risk of an offset joint by incorporating an oversized bell fitting machined into the HDPE saddle. Sealing between the saddle and PVC is accomplished by means of a rubber transition coupler. There is no need for expensive shielded couplings as the PVC will protrude inside of the HDPE saddle.
TRENCHLESS SPECIALTY SADDLE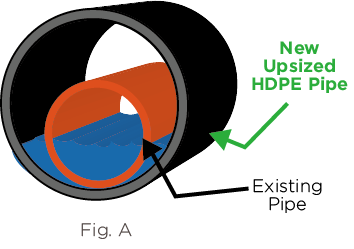 During the trenchless process of pipe bursting, the flow line of the new HDPE pipe most commonly remains at the same elevation as the existing pipe being replaced.  In cases of major upsizing in pipe diameter, it is common for the new larger HDPE pipe to expand in an upward direction as shown in Fig A.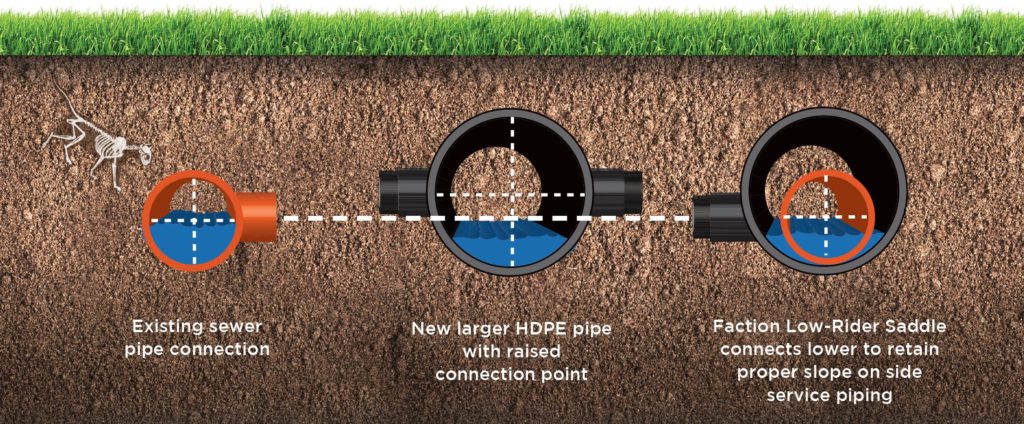 Because the new HDPE pipe is larger, the connection point on the side of the pipe will be higher in elevation than the connection point on a smaller pipe. To solve this problem, the  Faction Low-Rider saddle connects slightly lower than the horizontal centerline (approx. 1"-2") which will accommodate more downward flow for the side service piping and may even   eliminate the need to Re-Grade side service piping in some cases.
Need something specific?
We'll build it!
Like we said.  We are looking to bring new products and solutions to the HDPE market.  Let us know if there is something that would make your projects affordable and easy to install. 
CALL US NOW
1 (877) FUSION9

1001 Avenida Pico, Suite C-420
San Clemente, CA 92673
info@factionfusion.com
1 (877) FUSION9